A List Startenders is an original spin on the traditional bartender school which provides its students with a rich, dynamic and realistic experience with high intensity classes to create a respectable and confident bartender, work ready and built for lasting success.

Since inception in 2011, we have helped launch the career of hundreds of bartenders in the Chicago land area and various cities around the world such as Maui, Los Angeles, Miami, Las Vegas, New York, London, and Dubai.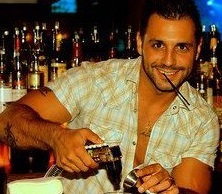 Gregory Tatavosian
Principal/Instructor
Greg is the founder and instructor at A-List Startenders. His career began on the campus of Eastern Illinois University when he started tending bar at a well known college hang out. He would go on to graduate with a finance degree however it was his job as a bartender that would lead him down the path he is on today. Over the next 12 years he would go on to tend bar in some of Chicago's premiere bars and clubs.
Greg expanded his career in bartending in 2011 when he created A-List Startenders and began his pursue of passing on his knowledge to his students. Using all his experience tending bar, and with the help of his talented mom and sister who are both teachers in the Chicago land area, they were able to create a unique and vibrant curriculum that keeps students engaged, motivated and having fun.
As a high school wrestler, Greg was greatly influenced by his coach who instilled a strong work ethic, attitude, dedication and mental toughness. These are traits he now demands from his students and are part of the foundation behind their success.